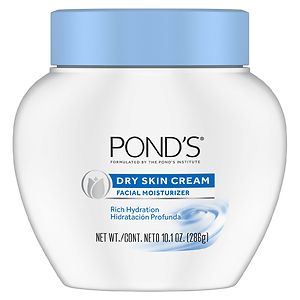 I was never such a moisturizer addict until very recently, probably due to my skin's ability to produce oil very quickly. Low and behold, I've found two extremely effective moisturizers for my combination skin that seriously don't leave behind a bit of greasiness - just smooth supple skin.
1) Clinique's Dramatically Different Moisturizing Lotion - Yes, I'm aware that this has been on Allure's Best Of Beauty list for the past hundred years however it wasn't until recently when I was just browsing in a Sephora and the ubiquitous little yellow tube caught my eye. I just thought I should really give this another chance. It's now my go-to moisturizer each morning before makeup.
I purchased the 1.7oz airplane friendly tube for $13 at
Sephora
and suggest you do the same.
2) Pond's Dry Skin Cream - Another oldie but goodie that's been around for centuries (literally!) and yet I hadn't given a second shot until tonight. Even though the jar says it's formulated for dry or sensitive skin, my normal to combination skin soaked the cool cream right up with not a hint of oily residue left behind.
At less than $5 for a 3.9 oz. jar, your face (and wallet) will thank you. Find it
here
.